Finally I decided to create a post with latest changes applied to the app, rather than create new post for each version.
Please find download link to the app at the end of the post
v.0.3
Added 2 new fields to setup Login name and Password by request of users. Defined once, you can collapse the group, save file locally on you PC and this will overwrite setting from XML.
Password field is kind of hidden, but when you click on it – still can see and change it.
I still recommend to use windows authorisation rather than spoil login details, but you have the opportunity now to use both.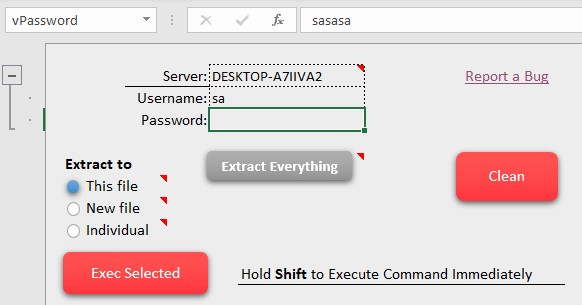 Added "Report a Bug" link to generate a mail template to developer (me)

v. 0.2
Added Office x64 compatibility.
You can set SQL Server address via the corresponding cell on the main screen. If the cell is empty – value from XML config file will be used.
"Extract Everything" trigger-like button allows you to ignore "skip" (Dataset), "hide" (Column), "delete" (Column) functionality and pull all information to Excel.
Sorted issue to Log some errors.
Added support to code Application Name to recognize connection on the server. By default it's application_name="Blitz_Excel_UI"
Please click here to download the latest version
Hits: 2011